Push notifications are an effective tool for boosting conversions, customer engagement, and sales. Prior to embracing this powerful channel let's get to the root of push notifications via answering frequently asked questions.
What are push notifications?
Push notifications are clickable messages that pop up from an app or website.
How do they work?
When visiting the website the user sees an automatic window offering a push notifications subscription. The user has an option to decline the subscription or accept it with a single click. Afterward, each subscriber is assigned an ID number with the set of accumulated metadata retrieved from the web browser. From then on the website will send push notifications to a subscribed user.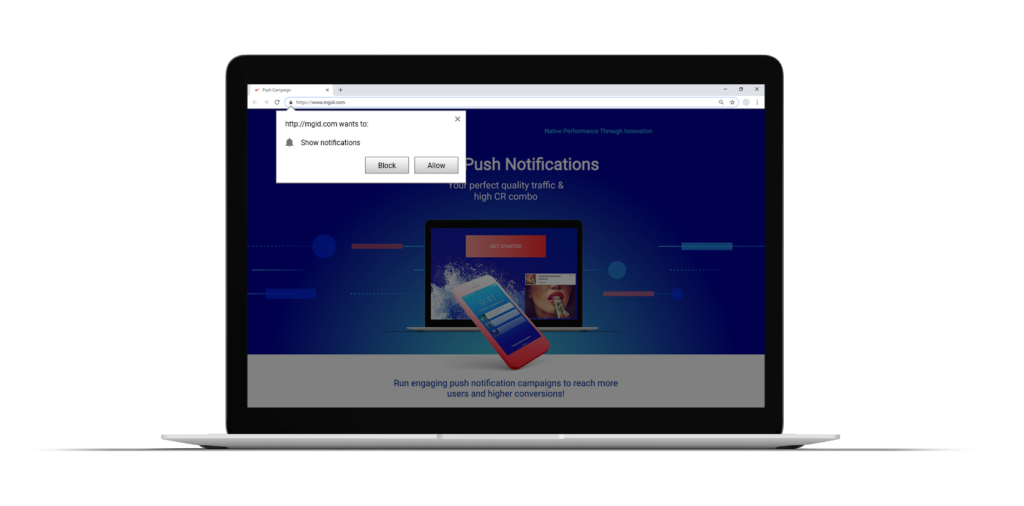 What do push ads look like to a user?
Push notifications look like alerts or text SMS messages, however, the difference is that they reach users who have subscribed to them via web products. These messages contain ad copy pertaining to your offer, an image, and a call-to-action.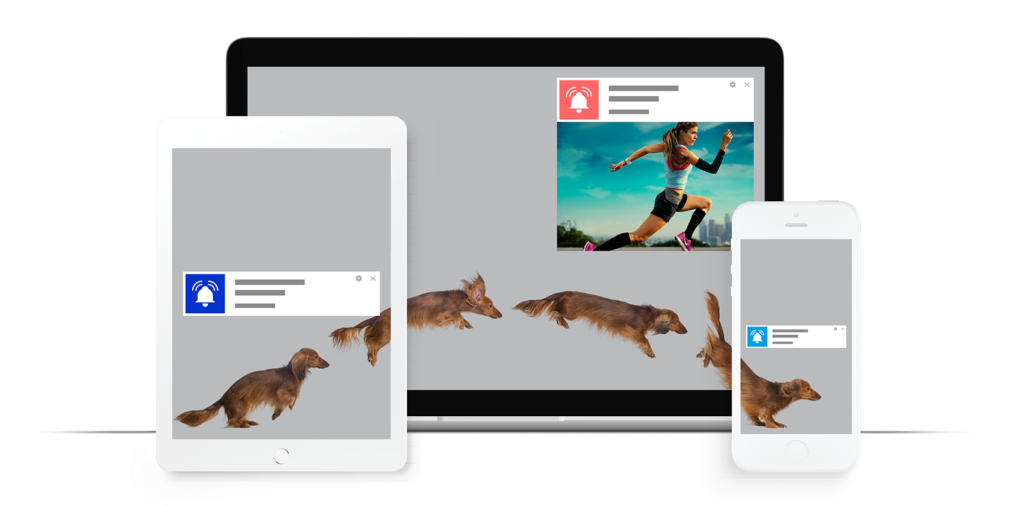 Why are push notifications a good idea for me?
Here's the full picture:
they can be accessed on all devices

subscribers have full control over what types of notifications they want to receive and to what devices

web push notifications offer a fantastic way to alert subscribers and customers about the latest deals and sales

real-time alerts get people to take action more effectively than any other form of communication
Why should I launch a push campaign with MGID?
Buying push traffic may be a tough task. Most networks share subscribers base, so you pay several times for the same user. MGID's capping allows to cross-network users mapping to make sure ads are delivered to a unique subscriber. Consequently, you don't pay for users you already reached out to.
Plus, we mix native with promoted content in push, providing value to the customers, engagement to the publishers, and conversions to the advertisers.
Where do you get your pushes from?
First and foremost, we have our unique audience. In addition, we are integrated with the largest contractors in the market.
How does this traffic convert compared to native traffic?
It is important to find an approach to push traffic and optimize the funnel. Regarding our vast experience, push traffic works not worse than the native one but only when the campaign is set properly.
What is the CPC bid to push traffic compared to native ad campaigns?
On average we recommend CPC bids 10-20% lower than native ad campaigns with the same geotargeting.
What happens if the CPC is lower than recommended?
The auction will be won by the highest bid. That is, each ad displayed subsequently is the highest bid in a row.
How many clicks does one subscribed user generate?
2.5 clicks to the point of unsubscription.
What is the frequency of a push notification display?
The display frequency per user is adjusted by the publisher, however, on average it is once in a four-day period. But only in cases  he is relevant and wins an auction.
What factors influence the display of your ad?
In the realm of push campaigns, it is the price that influences the ad display. If you want your ad to be displayed on a far greater number of platforms, you have to increase the bid.
What are the restrictions for push campaigns regarding offers/landing pages/ads? Can I run anything I like?
The restrictions are the same as in native ad campaigns. User experience is our top priority. All the detailed information about the rules and restrictions pertaining to push campaigns can be found here.
Should I adapt creatives to push campaigns?
Of course. It is our strong belief that there is no one-size-fits-all approach toward creating push campaigns. We strongly recommend forgetting about using templates or stealing competitors' moves. Also, you should not use the same formats for push campaigns and native ad campaigns.
Creativity in terms of push campaigns is rather a thin line; there is always an opportunity to overdo it and consequently confuse the user and lose him once and for all. The design, tone of voice, and storyline have to be in line with the product and reflect its philosophy. Basically, push notification has several minutes to grab the user's attention. Catchy yet not aggressive, push notification has to be precise about what is offered and how to get it. If you are interested in details about creating a perfect push campaign, click here.
Can I optimize push campaigns?
Yes, absolutely. The process of optimization in the context of push campaigns is the same as in native ad campaigns. You have the opportunity to switch off the sources that do not work well for you. You can use MGID's Selective Bidding feature to identify and disable non-converting traffic sources and maximize the ROI from the best-performing ones.

Does your push notification work on iOS?
No. Our push notifications work on Desktop and Android.
I get the value of push notifications. How do I get started?
Great! Then you can find out about the procedure of creating a push ad campaign right here.
Still have questions for us? You are welcome to contact us, and we would be glad to provide you with all the necessary information. We are the platform that provides expertise, support, and assistance to all of our clients, both existing or potential.