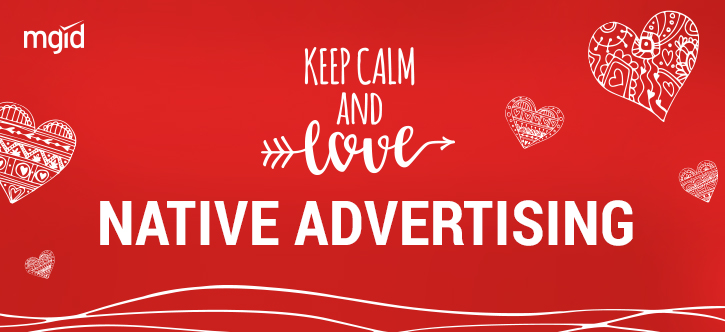 MGID works hard at its love affair with publishers and advertisers not only because native is predicted to drive 74% of ad revenue by 2021, but also because we believe in native as the best way to win for your brand and a chance to spread awareness of your product or company. We're passionate about good content that makes sense for a brand, publisher and reader – the kind of stuff that gains consumer's trust and loyalty. We understand that getting consumers to enjoy native advertising half as much as we do, means pushing ourselves to always produce better content. That, and continuing to be enthusiastic about what we love doing. We'll share some of the top reasons we're sticking with native.
Transparency
We really try to make sure that our readers are happy and willing to spend their precious time enjoying each article we promote for an advertiser. MGID doesn't accept misleading content – consumers should always know what they're in for. We love that native advertising provides authenticity. Customers today crave this and many won't settle for less. The more legit brands appear via their marketing campaigns, the more loyalty they'll amass.
At MGID, we also think following the Federal Trade Commission's guidelines is not only fair to the audience, but is also in the best interest of the advertiser, as it helps to build brand equity. And it's important that we use native advertising disclosures in a way that provides maximum transparency to end-users.
User Experience
Publishers love the native ads because they adapt to the look and feel of the site content. Advertisers love it because users not only see native ads, they engage with them. Click through rates tend to be much higher on native units, and if you are really working with the publisher and customizing to their audience, you can get earned impressions on top of your paid impressions with shares on social media.
In addition, usability is most important to millennials who believe that a good ad experience is key to better overall online interaction. This is essential for a generation coming of age at a time where mobile devices and high-speed Internet have taken over. This matters to anyone considering advertising since millennials make up one quarter of the entire US population. They're a massive segment that can't be ignored with enormous spending power that has reached $1.3 trillion annually.
Dedication
Most publishers today work with dedicated native technology platforms like MGID. In the past, native ads and advertorials were simply loaded and ran via publisher CMS systems. However, native ads tend not to work effectively with publishers' existing content management systems. This approach doesn't scale and the data often doesn't reveal the specific detail a brand advertiser is looking to report on. Running on CMS systems inevitably brought those everyday users of publisher CMS tools into commercial areas from which previously they were completely separated. MGID is dedicated to easily solving these outdated issues and helping increase publisher revenues. Once publishers are integrated with a native technology platform, media owners can target audiences through a range of publishers and scale their own native campaigns via audience extension, driving relevant users back to their own sites and branded content.
Relationships
Native advertising creates opportunities for businesses to build relationships with consumers through increased interaction. It's a powerful brand relationship-building tool. Businesses with access to native networks can create, run and scale native campaigns themselves, building closer relationships with their brand fans and consumers.
It offers a level of data analysis that ensures everyone knows exactly what they're getting. Most importantly, they can increase their revenue streams at a time when the publishing industry as a whole is under a fair amount of pressure.