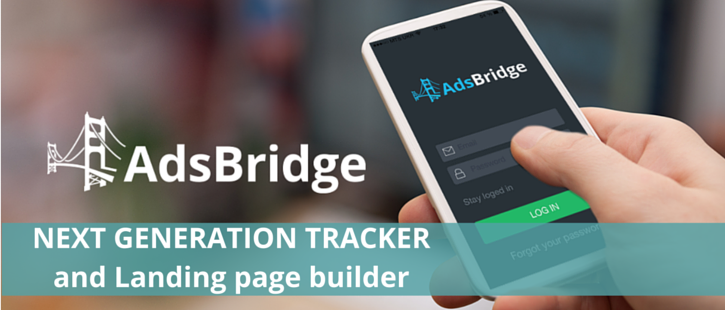 How often do you think of a reliable software that can help you with your ad campaigns, being a landing page builder, a traffic distribution system, and a technology-driven tracker at the same time? We are glad to introduce you to our new partner — AdsBridge.
At MGID we know the difficulties advertisers and especially performance marketers face working with various traffic sources. While MGID takes care of the traffic supply and traffic quality control side it's always good to have someone who'd make it easier to handle the other stuff.
AdsBridge is a cloud-based solution that enables the setting of multi-channel marketing campaigns. What's more, it has a truckload of options to help you create landing pages, track conversions, improve campaign performance, and split test at a moment's notice.
Offering a full cycle solution for affiliate marketers, AdsBridge is blowing away the competition offering valuable key features and functions no one of the competitors provides at the moment:
Landing page builder & hosting
100% cloud hosted solution
Super-fast redirects with unlimited custom redirect domains
ROI tracking and automatic campaign optimization
Multiple campaign reporting
Bot filtering
and many other powerful features…
All AdsBridge features are fully compatible with MGID technology so you'll benefit from any feature you decide to use. Our both companies continue their work on deeper integration to make the experience even more seamless for the customer.
And a pleasant bonus from our partner: all MGID users get EXCLUSIVE 50% DISCOUNT so don't miss your chance to try all features of Professional subscription plan for only $39 for your first month.