If you wish to find success in affiliate marketing, it's crucial for you to follow the exact process before choosing an offer, building up a native ad campaign that would 'look like it belongs there', and then spending money with a hope to get high clickthroughs. This is a typical way to go, but the modern world of affiliate marketing is well-known for its high competition, and it puts up a real challenge for your business unless you start using up-to-date solutions like advanced tracking systems to build up impactful native ad campaign — and they let you stay on top of things.
Here we'd like to outline the 5 Steps to Creating a Successful Native Ad Campaign that are based on the original infographic below and AdsBridge's first affiliate campaign guide.
Take These 5 Steps Strategy and Find Success with Your Native Advertising
Find the best offers and influencers
With hundreds of influencers available on the market today, how will you know which one works best for you? Apparently, the way to do it is testing to see which influencers not only have the most followers but can engage those to take action. Evidently, the first thing to do when you set up your first campaign is to choose an influencer that will be relevant, engaging, and have context.
On that note: plan your affiliate offer, search the appropriate influencer, start small and then scale to see how you can make it profitable. Keep in mind that your goal is to reach your target audience!
Create a Powerful Landing for Your Campaign
To attract your potential customers is one thing, but being able to engage them to click through to your offer is a whole different story. That is why landing pages are so important for your campaign's success. They are the best way to grab users' interest and to pre-sell them. Moreover, they are easy to be evaluated and optimized over time.
Learn more about landing page optimization from this guide and find tips to help you create most catchy landers, and make your native advertisement look like a non-ad content.
Track You Native Ad Campaigns
It is well worth your time and effort to setup tacking for your campaigns because proper tracking saves you money. The old traditional way to do it is quite complex, so you might well appreciate the latest tracking software that will provide you with general statistics like clicks, payouts and conversions, and show you where the leads are coming from – which is essentially important.
That's to say, once you start running traffic to your native ad campaign landers, you would want to track each traffic source to see the conversions on your site. And to save you from headache, platforms like AdsBridge will simplify the process and let you track all aspects of your ad campaign.
Split Test to Get Better Results
Assuming that you have your landing page and tracking setup in place, it's about time to split test the performance. For instance, you can check the swing of conversion just by changing the button color or a call-to-action, and see how much it differs. A great thing, isn't it?
Leaving nothing to a chance, you might want to split test your native ad campaigns for better results, and this is another reason you would want to do it through a tracking platform with loads of split testing capabilities, from design editing to source tracking and placement.
Follow the process, do split testing and look up for the best performers for your native ad campaigns.
Optimize, Measure Results and Scale
Once you choose a great offer and influencer to promote, created engaging layout page and started tracking, your final step would be to focus on optimization and scaling of your ad campaign — that's to say: bringing other traffic sources, trying different publications, updating your ad copy or targeting new markets that might bring you more profit.
In conclusion, your native ad success is about tweaking, testing and coming up with best profitable solutions. It takes time, but your big hit will make up for all the failures!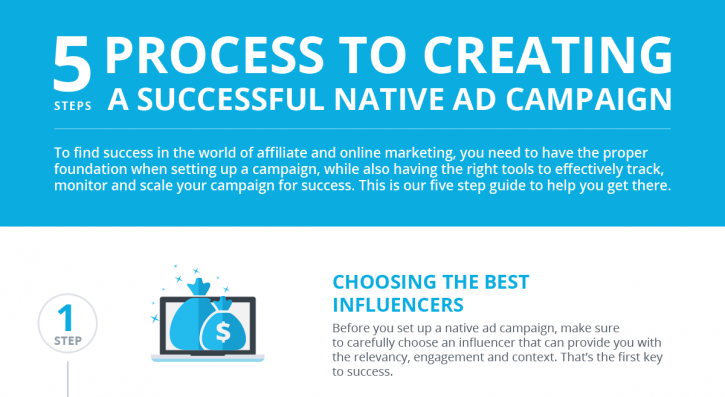 a guest post by Alex Omelianovych, COO at AdsBridge