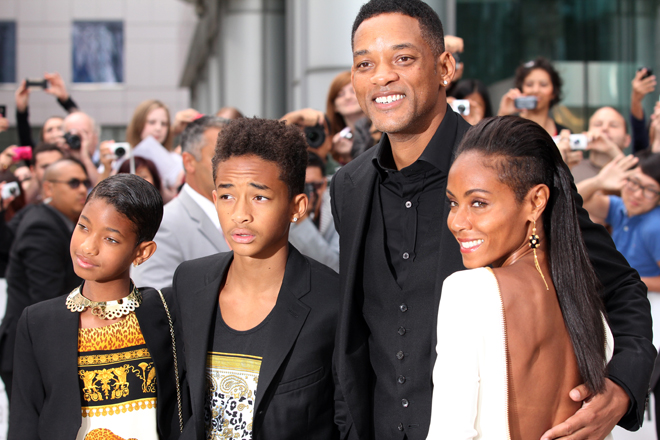 An Analysis of Data from More than 3,000 Entertainment and Lifestyle Publishers Finds the Smith Family Have the Best 'Click Factor'
SANTA MONICA, CALIF. (June 18, 2015) — Will, Jada, Jaden, Willow and Trey managed to beat out several other celebrities on yielding native advertising clicks according to data from MGID's more than 3,000 entertainment websites. The Smiths, as a family scored higher than individuals within the family as producing the most "headline-worthy" moments inciting clicks and viral engagement.
Following the Smiths, Taylor Swift, Megan Fox and Iggy Azalea scored high on the Click Factor scale, a method MGID uses to identify entertainment topics that demonstrate high relevance and interest from the end-user. Additionally there were some celebrities that continued their reign of clickability from 2014's findings, including Selena Gomez and Dwayne Johnson. New to the list were superstars Nicolas Cage and Jennifer Lawrence.
MGID uses "Click Factor" a scale from 10 to 0, on identifying content that resonates best with audiences so that they can help inform content creators and audiences on important and timely trends.
The top 10 most clickable celebrities for the first half of 2015 are:
The Smiths
Taylor Swift
Megan Fox
Iggy Azalea
Dwayne Johnson
Lynda Carter
Nicolas Cage
Selena Gomez
Kendall Jennifer
Jennifer Lawrence
"Click Factor" is determined by a wide range of criteria and calculations, aggregating data from traffic, quantity of published articles, click-through number and CTR (click-through rate). The data, collected from nearly 20 million individual website visitors who visited more than 3,000 websites, was tracked through MGID's native advertising widgets that are integrated on entertainment and lifestyle websites.
"It's always surprising to see what content seems to resonate with Internet audiences," said Sergey Denisenko, CEO, MGID. "For that reason it is critical that we use data to help us understand what captivates audiences. We use a myriad of tools to help our advertisers successfully tune into what is relevant to their audiences so that they can generate high-quality, interested and engaged traffic to their websites".
MGID, global native advertising pioneer, comScore-verified platform and member of the Interactive Advertising Bureau, connects thousands of websites with millions of people annually with targeted entertainment and lifestyle content, improving the online experience of both the advertiser and the consumer.