One of the most innovative digital advertising companies MGID Inc. has finished gathering the stats concerning its global reach and impact on the world of Internet marketing. Together with comScore, a global leader in measuring the digital world and preferred source of digital business analytics, MGID Inc. was able to get the most accurate and up-to-date figures.
comScore's intelligent data gathering and analysis mechanisms allowed MGID to obtain and showcase its key measures, demographics, GEO and genuine reach in the US, UK and Canada. Generalized data for the world reach was prepared by MGID's analytical department. The obtained stats delineate the crucial role of the company in the modern digital media world.
World reach (April 2013):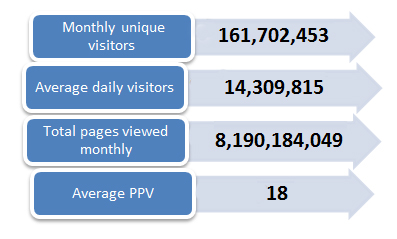 US, UK, Canada reach (April):
"Data generated by comScore gives a deep insight into the efficiency and reach of our business. Figures, as well as actions, speak louder than words, that's why we believe that they will give our customers a better vision of our brand and will as well increase the willingness of publishers, advertisers, affiliate marketers and webmasters to form long-term relationships with MGID Inc." – said Robert Bardunias, Executive Vice President of MGID Inc.
Full editions of presentations for MGID and Fem MGID with extensive GEO, demographic and other stats for the US, the UK and Canada can be requested from MGID representatives at mgid.com.
 – ends –
NOTES TO EDITORS:
For further editorial information, images or to arrange interviews with MGID experts please contact Selina.khuttan@mgid.com or call +44 203 002 7763
About MGID:
MGID is the world's largest audience development platform uniting thousands of websites together on a network of premium publishers.
Founded in 2008 MGID attracts over 20 million unique visitors per month. MGID has global offices in New York, London, Hong Kong and Kiev. www.mgid.com