Why MGID?
This study contains data analysis from MGID, a global leader in native advertising, a member of the Interactive Advertising Bureau and a native advertising marketplace that connects thousands of websites with millions of people annually to targeted entertainment and lifestyle content.
MGID takes traffic quality very seriously and, therefore, tracks website traffic from the ad network in real time so that clients are not charged for invalid clicks, no matter the origin.
The strict quality assurance system blocks more than 10 million clicks a month, saving up to a third of their client's ad budgets.
The system is in place to mitigate the threat that invalid clicks pose to the MGID network and the profitability of the company and all of its clients. To uphold quality assurance, it is critical that malicious traffic is eliminated before it even enters the network.
Source of our data
To get the insights we are sharing here, MGID collected data on traffic quality from more than 3,000 websites in our native advertising network and analyzed a sample of more than 113.5 million clicks that occurred in Q1 of 2015 to provide the 'big picture' of the nature and the proportions of valid and invalid clicks in the native advertising industry.
MGID's quality assurance department compiled all of the data into a report and then analyzed the findings.
The nature of invalid traffic
Not all invalid clicks are a result of malicious activity.
Invalid Clicks Types:
Fraud: Traffic from malicious activity designed to trick the network for more revenue
"Good" Bots: Traffic from automated web crawlers for activities like analytics — not actual human traffic
Other Invalid: Traffic from accidental or repetitive clicks, etc.
Invalid Traffic by Types
Of all the invalid and blocked website traffic to the MGID network, the majority of the traffic came from web-crawlers and "good" bots. While important, this is not considered valid traffic, since it is not human-generated.
Fraudulent traffic was the lowest portion of invalid traffic at 26% and ranked below accidental clicks.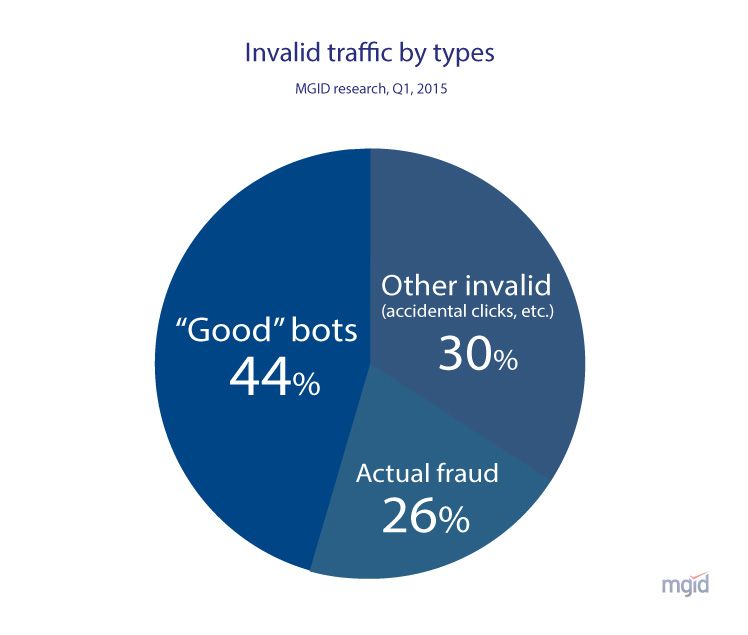 Invalid vs. valid clicks by geo
When looking at all types of invalid clicks, including good bots, accidental and fraudulent, the U.S. leads the world at 51% with no other country or region coming close to its margin share—the U.K. holding the largest share at only 7%.
For comparison, only 34% valid clicks come from the USA.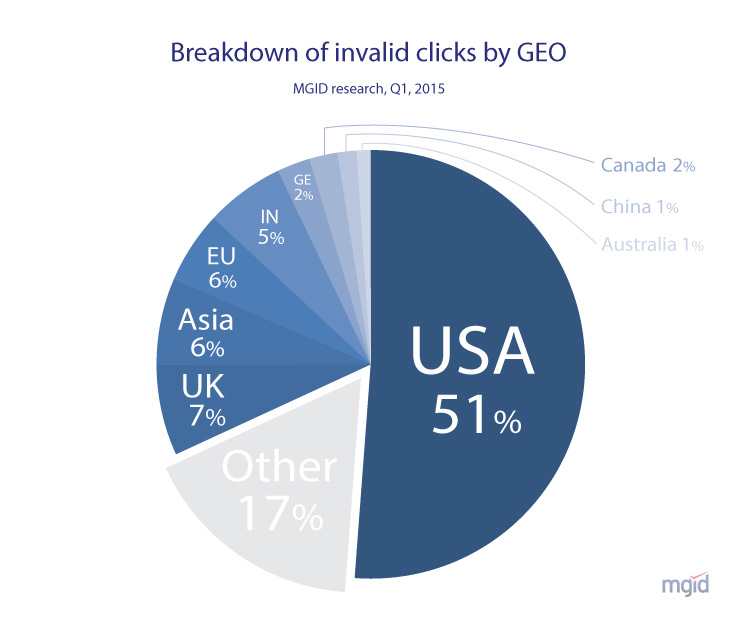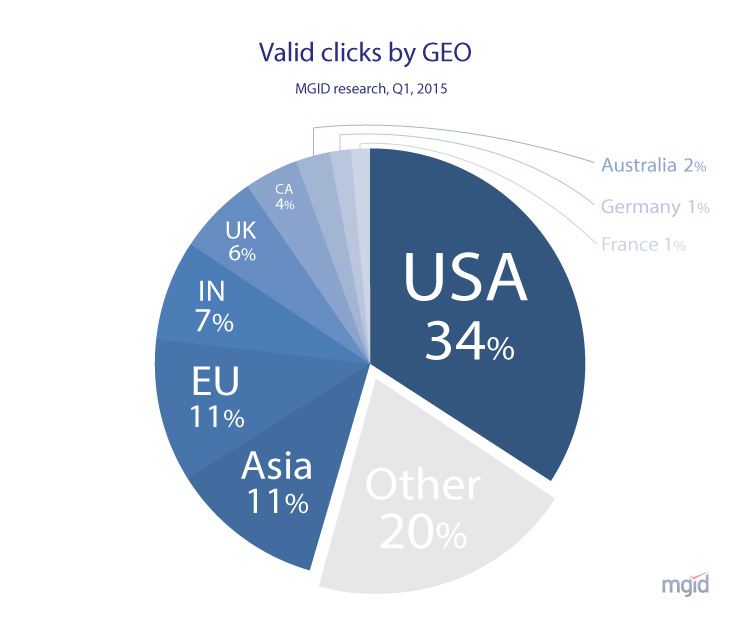 Fraudulent traffic by geo
The U.S. and the U.K. lead the world by a large margin on fraudulent traffic.
To a lesser extent Asia and India make up a sizable portion as well.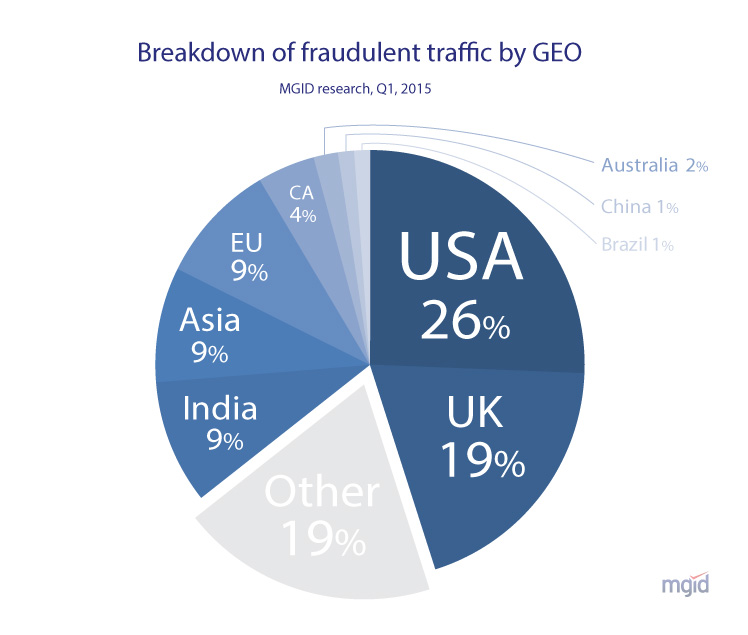 "Good Bots" By GEO
When parsing the data by only "good" bots traffic, the U.S. accounts for the vast majority of traffic to the platform.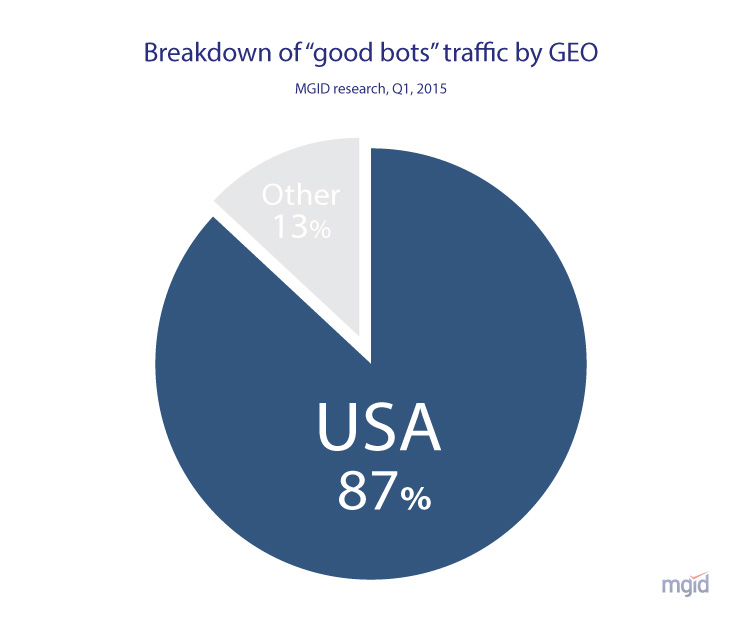 Traffic breakdown
As we see, though the U.S. accounts for the world's biggest share of fraudulent traffic, this type of traffic constitutes relatively low percentage in it's total traffic (around 4.26%).
The numbers prove that overall the traffic from the U.S. is of high quality and its majority share of invalid clicks in worldwide traffic are due to the U.S.'s overall leading position on the marketplace, as well as high demand for traffic from this country.
There is an assumption in the advertising and marketing industry that malicious and fraudulent traffic comes from "overseas" in places like Asia, however the data shows that the U.S. leads the world in fraudulent traffic.
Fraudulent traffic aside, it is of interest also that the U.S. leads the world in overall invalid clicks as well by a huge margin.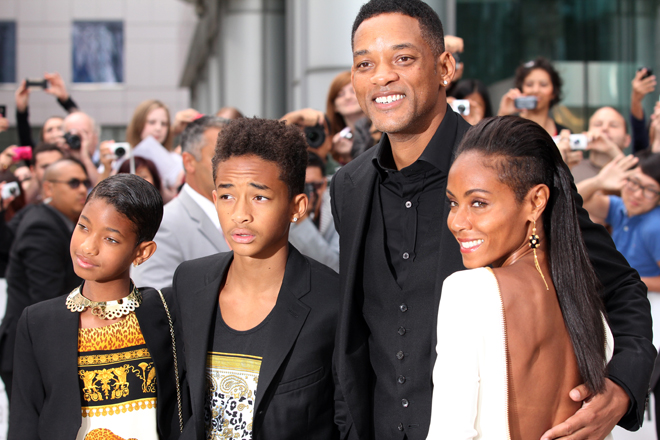 An Analysis of Data from More than 3,000 Entertainment and Lifestyle Publishers Finds the Smith Family Have the Best 'Click Factor'
SANTA MONICA, CALIF. (June 18, 2015) — Will, Jada, Jaden, Willow and Trey managed to beat out several other celebrities on yielding native advertising clicks according to data from MGID's more than 3,000 entertainment websites. The Smiths, as a family scored higher than individuals within the family as producing the most "headline-worthy" moments inciting clicks and viral engagement.
Following the Smiths, Taylor Swift, Megan Fox and Iggy Azalea scored high on the Click Factor scale, a method MGID uses to identify entertainment topics that demonstrate high relevance and interest from the end-user. Additionally there were some celebrities that continued their reign of clickability from 2014's findings, including Selena Gomez and Dwayne Johnson. New to the list were superstars Nicolas Cage and Jennifer Lawrence.
MGID uses "Click Factor" a scale from 10 to 0, on identifying content that resonates best with audiences so that they can help inform content creators and audiences on important and timely trends.
The top 10 most clickable celebrities for the first half of 2015 are:
The Smiths
Taylor Swift
Megan Fox
Iggy Azalea
Dwayne Johnson
Lynda Carter
Nicolas Cage
Selena Gomez
Kendall Jennifer
Jennifer Lawrence
"Click Factor" is determined by a wide range of criteria and calculations, aggregating data from traffic, quantity of published articles, click-through number and CTR (click-through rate). The data, collected from nearly 20 million individual website visitors who visited more than 3,000 websites, was tracked through MGID's native advertising widgets that are integrated on entertainment and lifestyle websites.
"It's always surprising to see what content seems to resonate with Internet audiences," said Sergey Denisenko, CEO, MGID. "For that reason it is critical that we use data to help us understand what captivates audiences. We use a myriad of tools to help our advertisers successfully tune into what is relevant to their audiences so that they can generate high-quality, interested and engaged traffic to their websites".
MGID, global native advertising pioneer, comScore-verified platform and member of the Interactive Advertising Bureau, connects thousands of websites with millions of people annually with targeted entertainment and lifestyle content, improving the online experience of both the advertiser and the consumer.
So if you are planning to go, stop by table #211, if not — maybe you should consider! The summit has been the "go to" destination for affiliate marketing for 12 years now and it's a great chance to network and share best practices.
The world's leading affiliate marketing industry conference and exhibition is coming to New York on August 2-4 and MGID is thrilled to represent native advertising there!
We can work closely with you on how affiliate marketers can utilize this new and powerful source of traffic for their offers and give in-depth advise on your particular situation. If that's not enough, we have some gifts and special traffic packages only available to people who visit us.
We'll be announcing more information shortly, stay tuned!
See you there!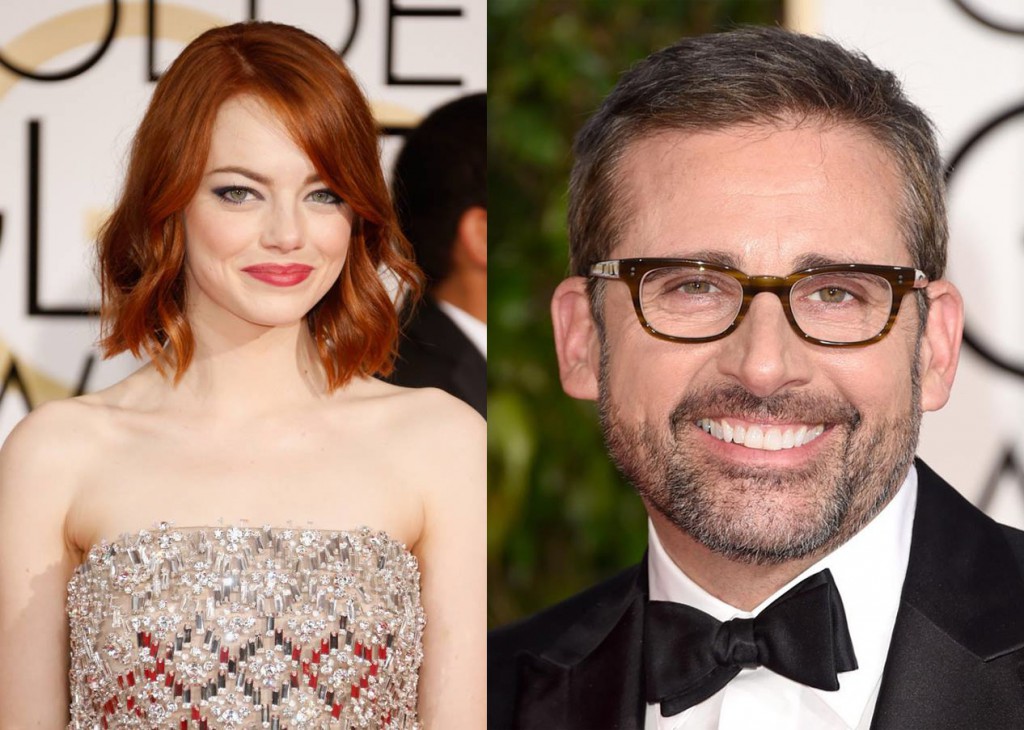 Global Native Advertising Platform Finds Carell and Stone Have the Best "Click Factor" for Online Ads
Less than a month from the big day, native advertising pioneer MGID announced the most clickable nominees for the 87th Academy Awards®. Emma Stone, nominated for best actress in a supporting role for her performance in Birdman and Steve Carell, nominated for best actor for his performance in Foxcatcher, both ranked 10 out of 10 on MGID's Click Factor scale.
The scale, ranked from 0 to 10, measures how viral a piece of content is based upon user engagement, click-through statistics, and other traffic metrics pulled from more than 3,000 entertainment online news sites and blogs.
The other nominees did not rank over a Click Factor of 2, demonstrating a large margin between content that was viral and content that wasn't. Female nominees with the best click factor were, in order of clickability, Emma Stone, Keira Knightley, Rosamund Pike, Felicity Jones, Marion Cotillard, Meryl Streep, Reese Witherspoon, Laura Dern, Julianne Moore and Patricia Arquette. Male nominees with the best click factor, respectively, were Steve Carell, Edward Norton, Benedict Cumberbatch, Mark Ruffalo, Bradley Cooper, Eddie Redmayne, Ethan Hawke, J.K. Simmons, Robert Duvall, and Michael Keaton.
MGID also conducted a survey of its more than 86,000 Facebook fans to find who they thought would win the Oscars®. Meryl Streep and Reese Witherspoon were chosen along with Bradley Cooper and Edward Norton.
"We certainly don't think an Oscar nominee's Click Factor will indicate who will win the award, or even whether or not they are good actors, but it is a great way to see what Internet audiences are interested in," said Sergey Denisenko, CEO, MGID. "Also the disparity between what our Facebook fans cited as their favorite nominees and what audiences clicked on demonstrates that just because a celebrity is popular, doesn't necessarily mean they are 'clickable.'"
"ACADAMEY AWARDS®" and "OSCARS®" are registered trademarks and service marks of the Academy of Motion Picture Arts and Sciences. MGID is not affiliated with the Academy Awards or the Academy of Motion Picture Arts and Sciences.
Data from More than 3,000 Online Entertainment Publishers Places Cyrus and Smith as Celebrities with the Best 'Click Factor'
Pop sensation Miley Cyrus and rapper/Karate Kid Jaden Smith rank as native advertising's most "clickable" celebrities, from MGID's more than 3,000 partner entertainment websites. Other notable clickable names included Hayden Panettiere, Chloe Moretz, Jim Parsons and Jason Statham.
Celebrity "click factor" is derived from an algorithm that aggregates data on user engagement and virality among millions of visitors to entertainment, lifestyle and sports publishers. MGID uses "click factor" to identify the entertainment topics that are most desirable by the end-user and can help inform content creators and advertisers relevant audience trends.
MGID's list of top most clickable names in native ads was divided by male and female, where female celebrities seemed to enjoy significantly higher "click factor" than males did. 2014 findings revealed that, with only a few exceptions, female celebrities are far more popular in native advertising than their male counterparts.
The top 10 most "clickable" female celebrities are:
Miley Cyrus
Hayden Panettiere
Chloe Moretz
Ariana Grande
Bella Thorne
Kaley Cuoco
Miranda Cosgrove
Selena Gomez
Kelly Osbourne

Willow Smith
The top 10 most "clickable" male celebrities are:
Jaden Smith
Jim Parsons
Jason Statham
Ben Affleck
Dwayne the Rock Johnson
Justin Bieber
Daniel Radcliffe
Ryan Gosling
Lil Wayne

Prince Harry
MGID measures the "click factor" of celebrities by calculating a range of criteria, including number of articles published, the number of impressions the ads received and the amount of "click-throughs" the article generated.The anonymous behavior of nearly 20 million individual website visitors who clicked on more than 180,000 of native ads on 3,000 websites, worldwide, was analyzed. The data was tracked through MGID's native advertising widgets, housed on entertainment and lifestyle websites to monetize and engage their audience.
"Click factor is a great tool for understanding the pulse of Internet audiences," said Sergey Denisenko, CEO, MGID. "For native advertising to be successful, website visitors must take a captive interest in the content given to them. It is clear that ads featuring these celebrities reflect the most important trends of 2014 with entertainment and lifestyle audiences."
MGID, global native advertising pioneer and member of the Interactive Advertising Bureau, connects millions of people annually with targeted entertainment and lifestyle content on thousands of websites, improving the online experience of the consumer to the benefit of both advertisers and publishers.

Mid-Year Trends Analysis Reveals Internet Destinations with the Best "Click Factor" Include Flash Games and "Then and Now" Childhood Crushes
Native advertising pioneer MGID identified the top-ten Internet content trends for the first half of 2014 today, having aggregated engagement and virility from millions of visitors to more than 3,000 entertainment, lifestyle and sports websites. Flash games topped the list as the type of content that had the best "click factor" among the visitors of the MGID network thus far in 2014.
The top 10 most clickable trends for the first half of 2014 are:
| | | |
| --- | --- | --- |
| RANK | TREND | CLICK FACTOR |
| 1 | Flash Games | 10 |
| 2 | Childhood Crushes (Then and Now) | 7.8 |
| 3 | Facebook Picture Fails | 6.3 |
| 4 | Couple Physical Training | 3.4 |
| 5 | Luxurious Lifestyle | 3.3 |
| 6 | Bollywood Stars | 3.2 |
| 7 | Movie Mistakes | 3.2 |
| 8 | Kaley Cuoco | 2.9 |
| 9 | Elsa Transformation (from Frozen) | 2.1 |
| 10 | Hayden Panettiere Bikini Style | 1.8 |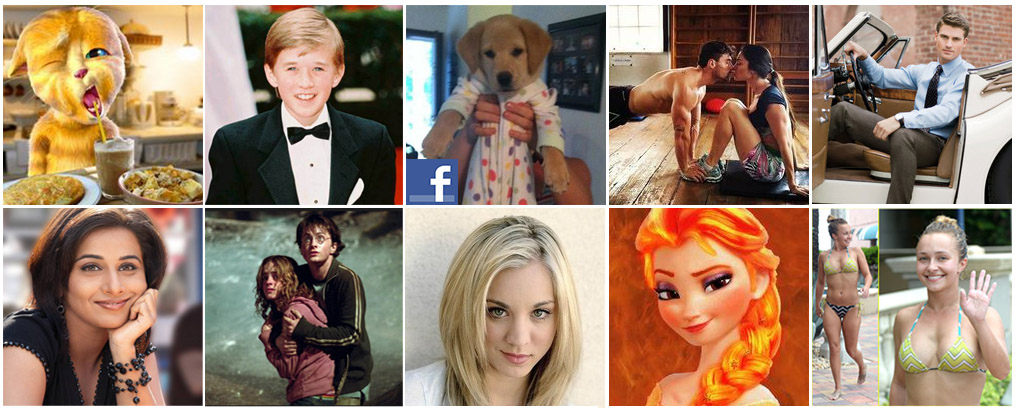 MGID measures the "click factor" of Internet content by calculating specific traffic criteria, such as the number of articles published about the topic and the amount "click-throughs" generated as a result of publishing the content.
The analyzed traffic came from nearly 9 million individual website visitors, clicking on content from more than 3,000 websites, worldwide. MGID tracked the data from user clicks on native advertising widgets that thousands of online publishers use to engage and monetize their audience.
"Whenever we see pop culture and entertainment trends in our system, it gives us some further insight into the behaviors of our audience," said Sergey Denisenko, COO, MGID. "It is paramount that we understand audience behavior so that we know how advertisers canbetter engage website visitors with authentic and relevant content that is interesting to them. Our platform makes it possible for websites to create high valuable content and to connect with users looking for that content."
MGID, a comScore-verified traffic vendor in the trending native advertising space, connects thousands of websites with millions of people annually and services publishers and advertisers with a content-driven campaign platform that improves the experience of both the advertiser and the consumer.
Native Advertising Pioneer MGID Delivers More than 1 Billion Native Ads Impressions Daily Over a Network of 3,000 Partners.
MGID, a pioneering network in native advertising, is moving its U.S. headquarters to Los Angeles to be closer to sports, entertainment and lifestyle clients. Founded in 2008, MGID now delivers more than one billion targeted native ads impressions daily through its 3,000 publisher partners, serving web-surfers with relevant, entertaining news, pop culture articles and multimedia.
A global leader in the native advertising space, MGID covers more than 50 categories of subject matter and currently generates more than 90 million authentic, unique monthly visitors.
MGID prides itself on delivering quality traffic comparable to that of context ads and organic search traffic, but for a fraction of the cost.
"Lifestyle advertisers are beginning to understand that the old ways of doing things do not resonate with today's audiences," Sergey Denisenko, COO, MGID, explains. "Website visitors respond to content only if it is tailored specifically to their interests. Irrelevant ads are a turn off. Our customers want content their website visitors will be genuinely interested in."
MGID has become a trusted content network that delivers with comScore-verified traffic that is in full compliance with IAB standards. Account specialists are available 24/7 to advise customers on how best to optimize their campaigns or monetize their sites.
MGID's new U.S. Headquarters are at 1514 17th St. #207, Santa Monica, Calif., 90404. For more information, see http://mgid.com.
MGID team is happy to present the result of company's business activity in numbers for 2013. Data and stats, verified by comScore - a leading internet technology company in analytics, were throughly analyzed and compiled to create short and clear presentations for our users, vistors, clients and natvie advertising business insiders.
MGID Network (US) stats for February-December 2013 (11 months):

Fem MGID Network (US) stats for March-December 2013 (10 months):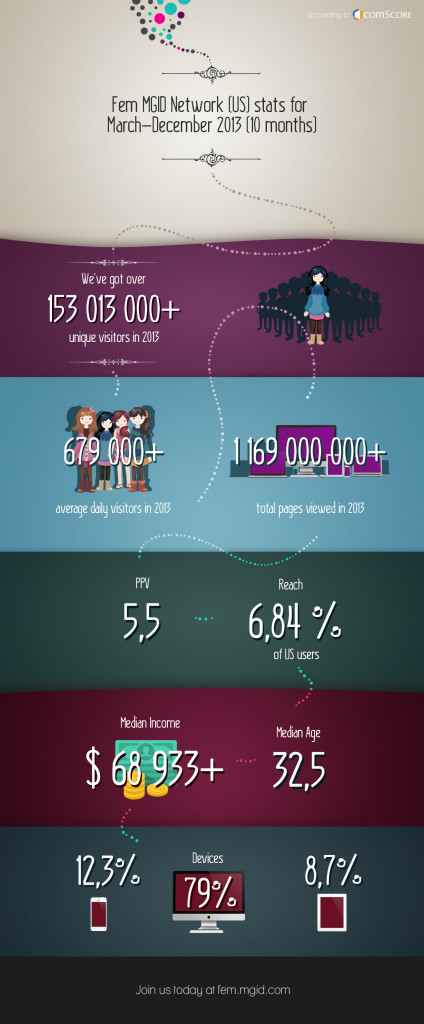 MGID Network (World Reach) stats for 2013:  

Don't hesitate to contact us to discover the new opportunities for your business today.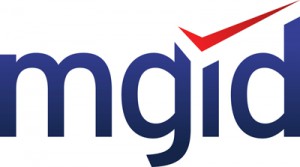 Digital media giant MGID Inc. announces the launch of their Sports and Gaming sub-networks. These networks were created for advertisers and publishers who want to attract more high quality and relevant traffic to their websites, increasing their audience in an intelligent way.
The new MGID Inc. initiative will cater to the growing Sports and Gaming categories in a way which ease the process of increasing pages viewed through the rise of relevant users. Many reputable websites with premium content from their respective categories, have already joined the new sub-networks and are enjoying its benefits.
"The launch of these two highly anticipated sub-networks, resulted from long discussions with partners and clients, as well as users – who are our core focus." - commented, Nick Marr, Company Director (MGID Europe). "These sub-networks open some very attractive opportunities for websites with Sports and Gaming content. I believe the Sports and Gaming sub-networks will allow relevant websites to see their traffic growth potential explode." 
Being a part of the Sports and Gaming sub-networks allow advertisers and publishers to:
- Get a 10%-15% increase in page views
- Increase the number of relevant unique visits
- Raise in ads revenue from banner impressions
- Get the opportunity to promote/advertise content on a huge network of websites
- Save money – MGID does it for free and it's an easy process to start
Example of a gaming widget
Example of a sports widget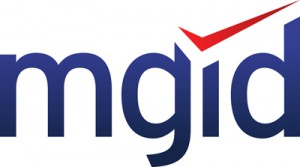 MGID Inc., the leader in digital marketing announces the launch of its Advanced GEO-Targeting System® features, which allows advertisers to push the limits realizing maximum potential from their ad-campaigns!
The technology behind the new extended targeting opportunities allows advertisers to target not only all countries, but also particular regions within these countries. The update is applicable only for clients who use our services on the bidding basis. It has been thoroughly tested and is now ready for use by MGID's network partners.
Aside from the introduced features MGID Inc. is developing a city-targeting feature that will be available very soon.
"Thanks to the targeting options recently presented by our company, advertisers will be able to choose from a wider range of ad campaign settings." - said Robert Bardunias, Executive Vice President of MGID Inc. "It allows our clients to create incredibly sophisticated campaigns with targeting features that correspond to their precise advertising/demographic needs. We are convinced that our customers will be delighted when they use the MGID Advanced GEO-Targeting System®."
In order to use the new targeting-features, please consult your traffic expert, and he/she will be glad to assist you with the advanced GEO-targeting adjustments.