IAB has come up with an outstanding research, results of which allow native advertising vendors to rethink their approach and start to bring the consumers of digital content even more value. Research performed by IAB & Edelman Berland sheds light on what consumers really think about sponsored content. You can see the results and conclusions on the infographic below or go ahead and read the full research here.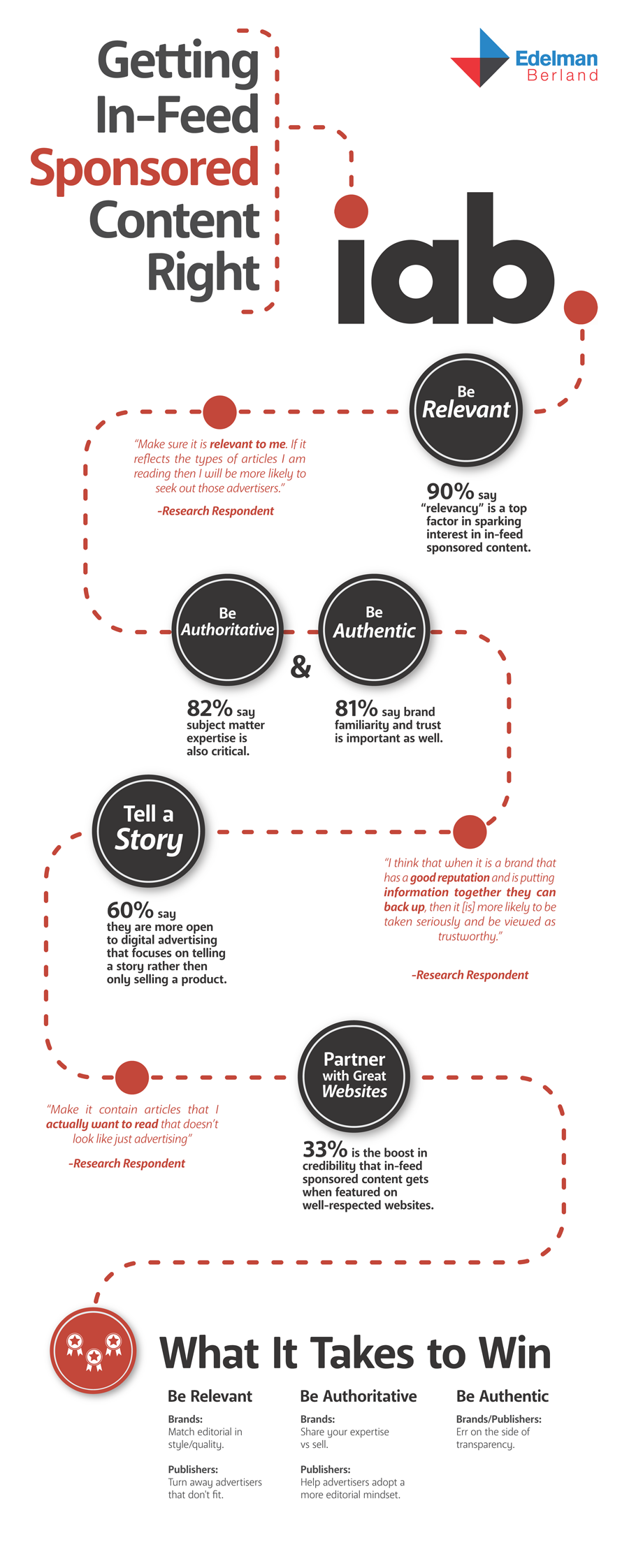 To put it short - be relevant, be authoritative, be authentic.

Mid-Year Trends Analysis Reveals Internet Destinations with the Best "Click Factor" Include Flash Games and "Then and Now" Childhood Crushes
Native advertising pioneer MGID identified the top-ten Internet content trends for the first half of 2014 today, having aggregated engagement and virility from millions of visitors to more than 3,000 entertainment, lifestyle and sports websites. Flash games topped the list as the type of content that had the best "click factor" among the visitors of the MGID network thus far in 2014.
The top 10 most clickable trends for the first half of 2014 are:
| | | |
| --- | --- | --- |
| RANK | TREND | CLICK FACTOR |
| 1 | Flash Games | 10 |
| 2 | Childhood Crushes (Then and Now) | 7.8 |
| 3 | Facebook Picture Fails | 6.3 |
| 4 | Couple Physical Training | 3.4 |
| 5 | Luxurious Lifestyle | 3.3 |
| 6 | Bollywood Stars | 3.2 |
| 7 | Movie Mistakes | 3.2 |
| 8 | Kaley Cuoco | 2.9 |
| 9 | Elsa Transformation (from Frozen) | 2.1 |
| 10 | Hayden Panettiere Bikini Style | 1.8 |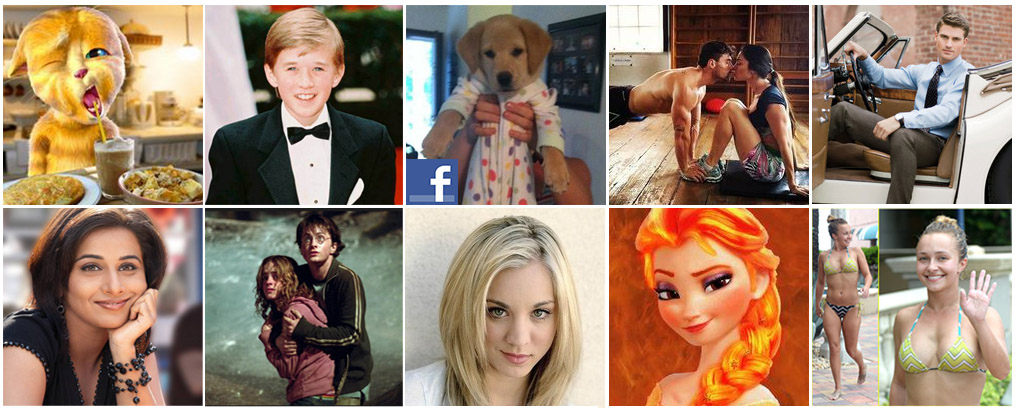 MGID measures the "click factor" of Internet content by calculating specific traffic criteria, such as the number of articles published about the topic and the amount "click-throughs" generated as a result of publishing the content.
The analyzed traffic came from nearly 9 million individual website visitors, clicking on content from more than 3,000 websites, worldwide. MGID tracked the data from user clicks on native advertising widgets that thousands of online publishers use to engage and monetize their audience.
"Whenever we see pop culture and entertainment trends in our system, it gives us some further insight into the behaviors of our audience," said Sergey Denisenko, COO, MGID. "It is paramount that we understand audience behavior so that we know how advertisers canbetter engage website visitors with authentic and relevant content that is interesting to them. Our platform makes it possible for websites to create high valuable content and to connect with users looking for that content."
MGID, a comScore-verified traffic vendor in the trending native advertising space, connects thousands of websites with millions of people annually and services publishers and advertisers with a content-driven campaign platform that improves the experience of both the advertiser and the consumer.
MGID team is happy to present the result of company's business activity in numbers for 2013. Data and stats, verified by comScore - a leading internet technology company in analytics, were throughly analyzed and compiled to create short and clear presentations for our users, vistors, clients and natvie advertising business insiders.
MGID Network (US) stats for February-December 2013 (11 months):

Fem MGID Network (US) stats for March-December 2013 (10 months):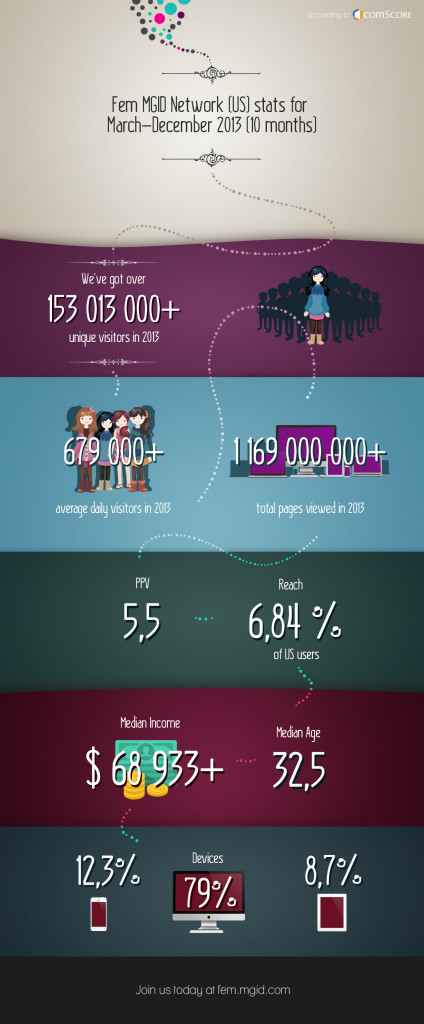 MGID Network (World Reach) stats for 2013:  

Don't hesitate to contact us to discover the new opportunities for your business today.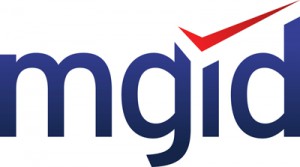 Digital media giant MGID Inc. announces the launch of their Sports and Gaming sub-networks. These networks were created for advertisers and publishers who want to attract more high quality and relevant traffic to their websites, increasing their audience in an intelligent way.
The new MGID Inc. initiative will cater to the growing Sports and Gaming categories in a way which ease the process of increasing pages viewed through the rise of relevant users. Many reputable websites with premium content from their respective categories, have already joined the new sub-networks and are enjoying its benefits.
"The launch of these two highly anticipated sub-networks, resulted from long discussions with partners and clients, as well as users – who are our core focus." - commented, Nick Marr, Company Director (MGID Europe). "These sub-networks open some very attractive opportunities for websites with Sports and Gaming content. I believe the Sports and Gaming sub-networks will allow relevant websites to see their traffic growth potential explode." 
Being a part of the Sports and Gaming sub-networks allow advertisers and publishers to:
- Get a 10%-15% increase in page views
- Increase the number of relevant unique visits
- Raise in ads revenue from banner impressions
- Get the opportunity to promote/advertise content on a huge network of websites
- Save money – MGID does it for free and it's an easy process to start
Example of a gaming widget
Example of a sports widget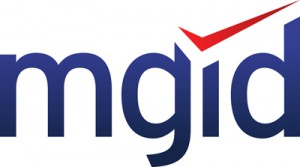 MGID Inc., the leader in digital marketing announces the launch of its Advanced GEO-Targeting System® features, which allows advertisers to push the limits realizing maximum potential from their ad-campaigns!
The technology behind the new extended targeting opportunities allows advertisers to target not only all countries, but also particular regions within these countries. The update is applicable only for clients who use our services on the bidding basis. It has been thoroughly tested and is now ready for use by MGID's network partners.
Aside from the introduced features MGID Inc. is developing a city-targeting feature that will be available very soon.
"Thanks to the targeting options recently presented by our company, advertisers will be able to choose from a wider range of ad campaign settings." - said Robert Bardunias, Executive Vice President of MGID Inc. "It allows our clients to create incredibly sophisticated campaigns with targeting features that correspond to their precise advertising/demographic needs. We are convinced that our customers will be delighted when they use the MGID Advanced GEO-Targeting System®."
In order to use the new targeting-features, please consult your traffic expert, and he/she will be glad to assist you with the advanced GEO-targeting adjustments.